Published Jul 31. 1999 - 23 years ago
Updated or edited Jun 27. 2019
Benjamin Waedeled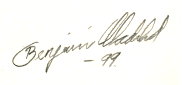 Benjamin Wædeled is a young Danish fly tyer and fly fisher who makes illustrations for GFF. Benjamin is born and raised on the Danish island Fyn and has fished its famous coasts since 1991.
Benjamin is a skilled fly tyer in spite of his young age. He has participated intensively in the national and international championships in fly tying and has through this won both prizes and fame. His impressing CV names the following results:

1995: 1st overall, beginners class, Danish Championships
1996: 3rd imitation class, Danish Championships
1996: double 1st, junior open class and junior wet fly class, Scandinavian Championships
1997: 1st, junior imitation class, Scandinavian Championships
1998: double 3rd, junior wet fly class and junior open salmon class, Scandinavian Championships
1999: 2nd overal, 1st in dry fly class, 1st in salmon fly class, Danish Championships
Benjamin has illustrated the following article on GFF:
Stream side strategies: three ways of improving your fly line control
And he also provided a couple of beautiful wallpapers: Salmon and sea trout and Brook trout.
More content from the front page