Published Jan 1. 2001 - 22 years ago
Updated or edited Oct 21. 2020
Martin Joergensen, GFF editor
One of the founders of GFF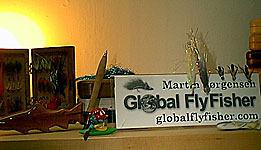 I am the main contributor, daily editor and developer of this site The Global FlyFisher. I'm certainly not the only person behind the site. The list of contributors is long.
I live in Copenhagen, Denmark (That's København, Danmark in Danish).

A few facts about me:
- I'm an avid fly tyer and fly fisher even though my activity has been somewhat impaled by a chronic disease.
- I have written articles in Danish and International fishing and fly tying magazines
- I have contributed to fly tying and fly fishing books in both Danish and English
- I have tied at shows in Denmark, Sweden, The Netherlands and the US
- I have spoken on many occasions in clubs both home and abroad




You are of course welcome with any kind of comments or suggestions, which can be sent to me by regular e-mail (martin@globalflyfisher.com).

Some GFF stuff that Martin was involved in:

Feather Mechanic II (review)
Nov 4. 2023
Baltic flies for calm and clear water
Oct 15. 2023
Doing a Step-By-Step
Sep 22. 2023
Mörrum - The Best Flies (review)
Sep 17. 2023
FISK - scaled-up (review)
Sep 10. 2023
What happened to GFF? (blog)
Sep 8. 2023
GFF is still alive! (blog)
Sep 8. 2023
A couple of leaders from Sweden (blog)
Aug 2. 2023
The threat of Drupal 8… eh… 9... eh… 10! (blog)
Jul 29. 2023
When AI invents flies
Jun 24. 2023
The Prefab Shrimp
May 17. 2023
How to invent a fly pattern
Apr 2. 2023
The Third Yarn Thief
Apr 2. 2023
Imaging Imitations (review)
Feb 14. 2023
LederCalc 2023
Feb 12. 2023
How to use LeaderCalc
Feb 3. 2023
The world's smallest shrimp fly
Jan 24. 2023
Fish Camp Fail (review)
Dec 15. 2022
Virtual fly tying (blog)
Mar 30. 2022
Big Flies Photo Gadget
Feb 24. 2022
Craft Beer Squid
Feb 21. 2022
Fly Couture (review)
Feb 19. 2022
Help wanted
Feb 12. 2022
Linked flies revisited
Dec 14. 2021
YR3D dubbing brush tool
Nov 22. 2021
Flytying for Beginners (review)
Oct 24. 2021
The up-to-date game (blog)
Sep 29. 2021
Syd Glasso (review)
Jul 13. 2021
The Grizzly Wonder
Jul 7. 2021
Josephine Baker
Jul 1. 2021
A lousy old fly rod (blog)
Jun 29. 2021
GFF Survived!
May 17. 2021
Buying Saddle Hackle
Mar 16. 2021
Einars' Vulgata Emerger
Mar 11. 2021
Red Tag Revisited
Mar 5. 2021
Red Tag Odyssey
Mar 5. 2021
Books that formed me
Feb 3. 2021
The Feather Mechanic (review)
Jan 10. 2021
Being on Instagram (blog)
Jan 7. 2021
A heartfelt thank you!
Dec 19. 2020
Chalk and Cheese (review)
Dec 14. 2020
Fish Scaled Up
Dec 8. 2020
Merging Wordpress content into Drupal (blog)
Dec 2. 2020
Streamers 365 joins the Global FlyFisher!
Nov 28. 2020
Simple Flies (review)
Nov 13. 2020
Motley Flies
Nov 12. 2020
Nick Mayer
Nov 1. 2020
Autumn Fly
Sep 7. 2020
Einars' Floating Foam Caddis Pupa
May 5. 2020
The GFF Interview
Mar 13. 2020
Durable flies: Wrapping thread
Mar 3. 2020
Durable flies: Before you tie
Feb 27. 2020
Durable flies: Why?
Feb 27. 2020
Kavik
Feb 23. 2020
Moulin's Deer Hair Parachute
Feb 21. 2020
The Atlantic Salmon Fly (review)
Jan 9. 2020
About getting skunked (blog)
Dec 17. 2019
Hardy's Salmon Flies (review)
Dec 11. 2019
Reflections on the Loch (review)
Dec 7. 2019
Pike Fever (review)
Nov 20. 2019
The March Brown Legacy
Nov 17. 2019
The March Brown Odyssey
Nov 17. 2019
Celebrating 10,000 videos
Nov 13. 2019
My oldest piece of material
Oct 26. 2019
Trout are stupid (review)
Oct 16. 2019
10K videos!
Oct 8. 2019
Does anyone proofread this crap? (blog)
Oct 4. 2019
I'm on the air! (blog)
Sep 26. 2019
The magazine image system (blog)
Sep 10. 2019
The Magnus and Fred Clan
Sep 6. 2019
These videos will make you a better fly tyer
Sep 3. 2019
Flies Photo Gadget v2.0 (blog)
Aug 30. 2019
America's Favorite Flies (review)
Aug 30. 2019
Omoe Brush in living color
Aug 27. 2019
Today's Fly
Aug 20. 2019
Creative GeWe Wet Flies (review)
Aug 18. 2019
All your book are belong to us! (blog)
Aug 16. 2019
The Humpy Encyclopedia (review)
Aug 8. 2019
Bob brought two books (blog)
Jul 20. 2019
Fly Fishing Treasures (review)
Jun 30. 2019
Sea Trout CDC&Elk
Jun 27. 2019
The Brown Trout-Atlantic Salmon Nexus (review)
Jun 24. 2019
Zkinny
Jun 20. 2019
Some books arrived (blog)
Jun 19. 2019
Flies Photo Gadget
Jun 17. 2019
Claus Eriksen
Jun 13. 2019
Danish Fly Festival Impressions (blog)
Mar 7. 2019
Hair pin intruder shanks
Mar 4. 2019
Why I like tying at shows (blog)
Feb 25. 2019
The Brown Owl
Feb 23. 2019
Unlimited access... not (blog)
Feb 19. 2019
Rotating your bobbin holder
Feb 19. 2019
25 years online!
Feb 17. 2019
Steelhead Fly Tying (review)
Feb 11. 2019
GFF on Instagram
Feb 7. 2019
Intruder conversions
Jan 26. 2019
Wayne's Tying Tips
Jan 24. 2019
Using bead chains
Jan 21. 2019
Flies for a friend (blog)
Jan 20. 2019
My book register (blog)
Jan 9. 2019
Top Saltwater Flies (review)
Jan 5. 2019
CDC Loop Wing Foam Emerger
Dec 28. 2018
Crystallin Task Light
Dec 17. 2018
Merry Christmas 2018
Dec 14. 2018
November, November, November, November
Dec 11. 2018
Danish Fly Festival 2019 (blog)
Dec 8. 2018
Green Highlander
Dec 8. 2018
5 Minute Bug
Nov 30. 2018
Lazy loading (blog)
Nov 24. 2018
DIY Vacuum Rod Holder
Nov 17. 2018
No tsundoku here! (blog)
Sep 15. 2018
ACA's Beginner's Guide to Fly Casting (review)
Sep 15. 2018
When real life takes over (blog)
Sep 13. 2018
Backwoods Brook Trout (review)
Aug 21. 2018
Reel seats and reel feet
Aug 9. 2018
Roland Henrion
Jul 17. 2018
Petitjean CDC (review)
Jun 27. 2018
Three strikes... (blog)
Jun 11. 2018
Why I hate complexity (blog)
Jun 10. 2018
The Feather Thief (review)
May 21. 2018
Do you like this site? (blog)
May 6. 2018
Not a single cast (blog)
Apr 28. 2018
Green storage (blog)
Apr 16. 2018
Farkas' doubles
Apr 16. 2018
ABU Optic Flies (review)
Mar 14. 2018
Drupal, YouTube and Vimeo integration (blog)
Feb 21. 2018
The new GFF HQ (blog)
Feb 18. 2018
That book thing, again... (blog)
Jan 21. 2018
The decline of GFF (blog)
Jan 4. 2018
Meade's crazy flies
Dec 25. 2017
Merry Christmas!
Dec 22. 2017
I bought myself a book… eh, two books (blog)
Dec 10. 2017
Nymphenfischen (review)
Dec 10. 2017
A Year in the Life (review)
Dec 9. 2017
Jason Bordash
Dec 7. 2017
Christmas is closing in!
Dec 6. 2017
More Flies by Stefano Farkas
Nov 20. 2017
IPS '96: Muddler
Nov 17. 2017
Top Saltwater Flies (blog)
Nov 10. 2017
A go-kart sea trout trip
Nov 9. 2017
Baltic flies for cold water
Oct 25. 2017
Trevor Hawkins
Oct 20. 2017
Buying Fur and Skin
Oct 9. 2017
Ugly Straggly Wolf
Oct 6. 2017
Sam-I-Am
Oct 3. 2017
Casey Underwood
Sep 28. 2017
Articulated Flies
Sep 15. 2017
Frances Plug
Aug 28. 2017
Making Better Flies (review)
Jul 23. 2017
Great beginner's books
Jul 12. 2017
Preserving old URLs (blog)
Jun 25. 2017
Narova Foam Beetle
Jun 23. 2017
Boys' day out
Jun 21. 2017
To like or not to like (blog)
Jun 3. 2017
Why tying with others is great (blog)
Jun 1. 2017
Do me a favor, kiss your spouse (blog)
May 24. 2017
Orange Trim
May 22. 2017
Raccoon
May 17. 2017
The mothers' yarns (blog)
May 10. 2017
Garfish!
May 2. 2017
Getting review ratings shown on Google (blog)
Apr 30. 2017
Stefano Farkas' salmon flies
Apr 28. 2017
Short hook, long wing
Apr 24. 2017
Foam Snail
Apr 19. 2017
The Fly Fisher (review)
Apr 13. 2017
Russian Wasp
Apr 9. 2017
The Path of the Jaguar (blog)
Apr 8. 2017
Simply coastlines
Apr 5. 2017
Node number 50,000 (blog)
Apr 4. 2017
Springulated flies
Apr 1. 2017
Farlows Salmon Flies (review)
Mar 24. 2017
Oh, books! (blog)
Mar 24. 2017
Chris Helm's thread articles
Mar 24. 2017
Fleye Design (review)
Mar 21. 2017
Fulton's condition factor calculator
Mar 20. 2017
After the Festival (blog)
Mar 7. 2017
Off to the Fly Festival 2017 (blog)
Mar 2. 2017
The fish of a lifetime
Feb 24. 2017
Let's support Davie McPhail (blog)
Feb 16. 2017
DIY material spring
Feb 14. 2017
Pimp your vise
Feb 9. 2017
No fast forward! (blog)
Feb 9. 2017
A book list for Jes
Feb 7. 2017
GFF on Pinterest
Feb 7. 2017
DIY material clips
Feb 2. 2017
Haynes Fly Fishing Manual (review)
Jan 19. 2017
The Danish Fly Festival 2017 (blog)
Jan 8. 2017
2017, here we come
Dec 31. 2016
The coolest bobbin holder (blog)
Dec 27. 2016
Laser cut tool holders (blog)
Dec 20. 2016
DIY bodkin cleaner
Dec 13. 2016
Home made rod tubes
Nov 23. 2016
Do me a favor: go fishing! (blog)
Nov 22. 2016
The Lost Salmon Flies of Balmoral (review)
Nov 20. 2016
Grayling Flies (review)
Nov 20. 2016
Megan Boyd (review)
Nov 20. 2016
Fly tying lamps
Nov 15. 2016
GFF DIY LED tying lamps
Nov 15. 2016
A little about caching (blog)
Nov 15. 2016
Tryggelev Terror
Nov 10. 2016
David Womack
Nov 5. 2016
Inexpensive materials
Oct 31. 2016
NiCh Fly Suspended
Oct 27. 2016
Fishing TV-shows and videos
Oct 27. 2016
Why the drama? (blog)
Oct 24. 2016
The humble hackle pliers
Oct 22. 2016
GT (review)
Sep 30. 2016
Fly-casting Finesse (review)
Sep 23. 2016
Observation (review)
Sep 22. 2016
Intruder shanks, wire and hooks
Sep 11. 2016
Fighting spam on GFF (blog)
Sep 2. 2016
The Regal mystery (blog)
Aug 10. 2016
The fixed top menu (blog)
Jul 29. 2016
The technology behind LeaderCalc (blog)
Jul 27. 2016
#‎flypatternphotochallenge‬ (blog)
Jul 26. 2016
The GFF Drupal theme (blog)
Jul 26. 2016
The new newsletter (blog)
Jul 26. 2016
GFF BTS (blog)
Jul 26. 2016
Discs and cones
Jul 20. 2016
Baltic flies for turbulent water
Jul 15. 2016
LeaderCalc label printing
Jun 21. 2016
Friends, rods and sausages (blog)
Jun 9. 2016
Contacting companies (blog)
Jun 1. 2016
LeaderCalc 2016
May 23. 2016
New Danish hooks (blog)
May 20. 2016
Intruder introduction
May 19. 2016
Spring on the coast
Apr 10. 2016
Perrault's Standard (review)
Apr 5. 2016
The Half Haul
Apr 1. 2016
Hutch's Pennell
Mar 13. 2016
Lynx' Whisker
Mar 7. 2016
Fishy photos: Susanne Worm
Mar 6. 2016
Heads
Feb 28. 2016
Crooked Lines (review)
Feb 23. 2016
If I had boobs (blog)
Feb 19. 2016
Tying session in the woods (blog)
Feb 18. 2016
Springtime on Bornholm
Feb 15. 2016
Pike & Fly (review)
Feb 15. 2016
Newsletter revival (blog)
Feb 9. 2016
My morning with videos (blog)
Feb 2. 2016
The Talisker Touchdown
Jan 28. 2016
The Fair Fly
Jan 13. 2016
Simple Flies (review)
Jan 10. 2016
Pay-per-view tying (blog)
Jan 8. 2016
Coxy Streamer
Jan 6. 2016
Fishing the Danish way
Dec 26. 2015
Merry Christmas 2015
Dec 23. 2015
Flies at the water
Dec 21. 2015
My Secret Fly Reel Fetish (blog)
Dec 16. 2015
Andrej Polcic
Dec 4. 2015
Wild Steelhead (review)
Nov 28. 2015
Daniel D. Holm
Nov 22. 2015
A guest post for your blog (blog)
Nov 21. 2015
Rosi Oldenburg
Nov 18. 2015
Site upgrade done (blog)
Nov 16. 2015
Fusion Fly Tying (review)
Nov 13. 2015
The new GFF!
Oct 9. 2015
Travis J. Sylvester
Sep 13. 2015
Time for an upgrade
Sep 13. 2015
Classic Steelhead Flies (review)
Jul 31. 2015
Midnight Sea Trout
Jul 11. 2015
Coastal trips
Jun 21. 2015
Image theft (blog)
Jun 10. 2015
Taylor Garman
May 27. 2015
Arturas Merkevicius
May 9. 2015
The evolution of a fly called Klympen
Apr 21. 2015
The Legendary Triple Haul
Apr 1. 2015
The North Country Fly (review)
Mar 25. 2015
GFF respects your privacy
Mar 16. 2015
Scissors for fly tying
Mar 6. 2015
Fishy photos: Soren Skarby
Mar 4. 2015
Mads Schmidt
Feb 26. 2015
DIY IKEA line tray
Feb 14. 2015
Pacific Salmon Flies (review)
Feb 7. 2015
Renato Rizzo
Feb 3. 2015
The pike that stared
Feb 2. 2015
School of roach
Jan 28. 2015
Danish Fly Festival 2015 (blog)
Jan 23. 2015
My first salty pike
Jan 23. 2015
The LAW of attraction
Jan 19. 2015
Spring dreams
Jan 15. 2015
Squid Plus Three
Jan 5. 2015
Of lead and chrome
Jan 3. 2015
Production Fly Tying (review)
Jan 1. 2015
Same same, but different
Dec 31. 2014
King of the moonfish
Dec 30. 2014
Mangrove tarpon
Dec 26. 2014
Summit opener
Dec 22. 2014
Jewel of the Rockies
Dec 18. 2014
My float tube is a sputnik
Dec 14. 2014
The man with the silver waders
Dec 10. 2014
My most recent decent fish
Dec 6. 2014
Saltwater Flies (review)
Dec 1. 2014
Das große Trockenfliegen-Buch (review)
Nov 26. 2014
Selectivity (review)
Nov 21. 2014
I remember that fish
Nov 13. 2014
Steelhead Dreams (review)
Nov 6. 2014
Fly-Fishing's Final Frontier (review)
Nov 1. 2014
Flyfishing for Coarse Fish (review)
Sep 29. 2014
Take the F...ing Fly (review)
Sep 24. 2014
Kayak Fishing (review)
Sep 14. 2014
Threading a bobbin
Sep 9. 2014
Nymph Fly-Tying Techniques (review)
Sep 9. 2014
Bobbin holders for fly tying
Aug 30. 2014
I F***ing Love Fish Science! (blog)
Aug 29. 2014
Kayak fly-fishing - the sequel
Aug 26. 2014
The Rising Salar (review)
Aug 25. 2014
Rising Salar Q&A
Aug 8. 2014
Fishy photos: Lukas Bammatter
Jul 12. 2014
Sea Trout Secrets 5+6 (review)
Jul 3. 2014
Salt (review)
Jun 23. 2014
A Danish fishing lodge
Jun 21. 2014
Summer casting party (blog)
Jun 19. 2014
Lough Conn trout fishing
Jun 14. 2014
Fly Tying Thread Table
Jun 13. 2014
Fly Tying Thread Charts
Jun 13. 2014
Kiss the Water (blog)
May 30. 2014
Tying and Fishing the Booby Fly (review)
May 24. 2014
A spring trip
May 12. 2014
Sea Trout Munker
May 5. 2014
The Munker
May 5. 2014
A World of Pike Flies (review)
May 3. 2014
Sydney Opera Mouse
Apr 23. 2014
Michael Jensen
Apr 22. 2014
Foam Caterpillars
Apr 7. 2014
A glimpse of trout secrets (blog)
Apr 3. 2014
Fly Tying Thread Blues
Mar 31. 2014
Why I Fly Fish (review)
Mar 24. 2014
Mouse flies
Mar 19. 2014
Tributaries (review)
Feb 28. 2014
Casting Arm Blues
Feb 25. 2014
Fishy photos: Rudy van Duijnhoven
Feb 22. 2014
Fishy photos: Nikola Novovic
Feb 1. 2014
The Tube Fly (review)
Jan 27. 2014
GFF made a nickel in a day! (blog)
Jan 26. 2014
(Don't) Advertize with GFF
Jan 25. 2014
GFF might have ads!
Jan 21. 2014
Portrait of a fishing dog
Jan 6. 2014
2500 trout!
Dec 30. 2013
What is a fly rod?
Dec 30. 2013
What is fly-fishing?
Dec 29. 2013
What is...
Dec 29. 2013
The 50 most read articles
Dec 21. 2013
The 20 most popular sections
Dec 21. 2013
Casting That Fly 1/2 - Basics/Advanced (review)
Dec 17. 2013
5000 fly-fishing videos!
Dec 10. 2013
The Blue Marble (blog)
Dec 10. 2013
About 2013
Dec 7. 2013
Never fish with a broken hook!
Dec 2. 2013
Predator (review)
Nov 29. 2013
Feather Brain (review)
Oct 19. 2013
DIY stick-on eyes
Oct 13. 2013
Don't tie flies
Oct 13. 2013
Wet Flies (review)
Oct 9. 2013
Classic Michigan Flies (review)
Oct 9. 2013
New boat (blog)
Oct 9. 2013
Rubber band tool
Oct 8. 2013
Pike Duster
Oct 6. 2013
The strike
Sep 29. 2013
Right hand or left hand?
Sep 3. 2013
Trout (review)
Aug 7. 2013
North Country Flies (review)
Jul 10. 2013
Shooting the sun
Jul 5. 2013
Buying Marabou
Jul 1. 2013
Silver Tip Fly Company
Jun 23. 2013
Easy Shrimp Eyes
Jun 23. 2013
The Super Pupa
Jun 18. 2013
Catskill Tube Flies
Jun 17. 2013
Good books (blog)
Jun 14. 2013
Double Legs
Jun 2. 2013
Ode to three books - and Mike (blog)
Jun 2. 2013
Gapen's Muddler Minnow
Jun 1. 2013
Pedro Pablo Yañez Duran
May 30. 2013
Buying Soft Hackle
May 7. 2013
Teaching and tying in the US (blog)
May 5. 2013
One Mallard Shrimp
Apr 24. 2013
This fly is NOT called Europe!
Apr 24. 2013
Buying Dry Fly Hackle
Apr 22. 2013
Genner Bug
Apr 18. 2013
Buying Deer Hair
Apr 17. 2013
Buying Bucktail
Apr 13. 2013
Almost Gone Fishin' (blog)
Apr 12. 2013
The Chicken or Pasta Fly
Apr 11. 2013
6000% profit! (blog)
Apr 10. 2013
Jock Scott
Apr 9. 2013
Ken's Incredibly Simple Shrimp
Mar 24. 2013
That Festival Feeling (blog)
Mar 24. 2013
What to look for when buying...
Feb 18. 2013
My first flies
Feb 17. 2013
Intimidated by a streamer (blog)
Feb 16. 2013
Streamers 365 (review)
Feb 14. 2013
Yves Laurent
Feb 13. 2013
Fishy photos: Pasi Visakivi
Feb 13. 2013
Mickey Finn
Feb 9. 2013
Streamers 365
Feb 8. 2013
Danish Fly Festival 2013 (blog)
Feb 8. 2013
Sam MacDonald
Jan 16. 2013
Super simple fly photos
Jan 16. 2013
Peeete's Pheather 'n' Phlash
Jan 16. 2013
Adriano Manocchia
Jan 13. 2013
The Test Tube
Jan 6. 2013
Another year on GFF (blog)
Jan 5. 2013
Wild Steelhead (review)
Jan 1. 2013
7 Degrees South (review)
Jan 1. 2013
Merry Christmas 2012
Dec 24. 2012
Fishy photos: Michael Jensen
Dec 17. 2012
David Miller
Dec 11. 2012
Only the River Knows (review)
Dec 7. 2012
A Little Thing I Tied Myself (review)
Dec 6. 2012
Christmas gifts
Nov 24. 2012
Shadows
Nov 21. 2012
Portraits of a Fly-Fishing Landscape (review)
Nov 19. 2012
Proven Patterns (review)
Nov 19. 2012
Fishy photos: Eoin Fairgrieve
Nov 18. 2012
Salmon Fly Coffee Mugs
Nov 13. 2012
Wanna tie a big fly?
Nov 13. 2012
The tube fly needle
Nov 13. 2012
The Fish & The Fly 4 (review)
Nov 12. 2012
Geofish (review)
Nov 10. 2012
The video formerly known as... (blog)
Nov 8. 2012
Mayflies and More (review)
Nov 6. 2012
Ultimate Fishing Adventures (review)
Nov 6. 2012
Trout (review)
Nov 1. 2012
The Flies that Catch Fish (review)
Nov 1. 2012
Fire & Ice (review)
Nov 1. 2012
Reflections
Oct 30. 2012
Go fishing! (blog)
Oct 30. 2012
Fishing trip sandwich
Oct 29. 2012
New tube materials
Oct 24. 2012
Fishy photos: Barry Ord Clarke
Oct 24. 2012
The GFF T-shirt
Oct 23. 2012
Only the River Knows The Trout Also Rises
Oct 4. 2012
Interview with a trout
Oct 2. 2012
The first (fishing) blog.... ever?
Oct 1. 2012
The Global FlyFisher Store
Sep 30. 2012
Portraits of Salmon Flies
Sep 27. 2012
Oarless on Fyn (blog)
Sep 23. 2012
Martin's Mundane Crazy Dane
Sep 16. 2012
Martin's Mundane Crane Fly
Sep 15. 2012
Fleye Foils
Sep 10. 2012
Online fishing magazines (blog)
Sep 3. 2012
A very versatile material
Aug 25. 2012
Tying Tenkara Flies (review)
Aug 22. 2012
An Entirely Synthetic Fish (review)
Aug 22. 2012
Salmon fishing in the Yemen (review)
Aug 21. 2012
Zonker patterns
Aug 19. 2012
Fishy photos: Harri Hytönen
Aug 17. 2012
Chugging along (blog)
Aug 16. 2012
Cutting and buying zonker strips
Aug 14. 2012
Washing your materials
Aug 12. 2012
Steaming your materials
Aug 12. 2012
Gone fishin' (blog)
Jul 22. 2012
Squirrel Zonker
Jul 21. 2012
Zonker tying
Jul 21. 2012
The Ronker
Jul 20. 2012
Hospitalized kids need your flies!
Jul 12. 2012
Fisheye (review)
Jul 6. 2012
The Trout Diaries (review)
Jul 6. 2012
Fishy photos: Isaias Nicolaevici
Jul 5. 2012
Swedish Lapland (review)
Jun 21. 2012
Xtra Global Class! (blog)
Jun 18. 2012
The Practical Fly Tier (review)
Jun 17. 2012
Sorry Mr. Jintao! (blog)
Jun 16. 2012
Uncharted Waters (review)
Jun 14. 2012
Uncharted Waters Q&A
Jun 14. 2012
Fishy photos: Stu Hastie
Jun 12. 2012
Tied in the Hand (review)
Jun 9. 2012
Gaula Q&A
Jun 7. 2012
Let's help Travis (blog)
Jun 7. 2012
Book theft! (blog)
Jun 7. 2012
Meerforelle an der Küste I + II (review)
Jun 5. 2012
Hatch Q&A
May 30. 2012
Essential Edwards (blog)
May 26. 2012
Itu's Bones Q&A
May 23. 2012
Gaula (review)
May 17. 2012
Fleye Foils (blog)
May 16. 2012
Colorful beads (blog)
May 15. 2012
Turning Tail (review)
May 5. 2012
Hatch (review)
May 5. 2012
Heart of the Driftless (review)
May 4. 2012
Old fly lines come alive (blog)
May 4. 2012
Great books translated into German (blog)
May 2. 2012
Charles Weiss
May 1. 2012
Itu's Bones (review)
Apr 29. 2012
A Passion Called Salmon (review)
Apr 28. 2012
Fishy photos: Jonas Hoholt
Apr 23. 2012
Fishy photos: Marcel Siegle
Apr 12. 2012
Fishy photos: Dennis Collier
Apr 12. 2012
GYMF
Apr 1. 2012
Veevus Q&A
Mar 31. 2012
Sculpin Helmets (blog)
Mar 25. 2012
RISE in Copenhagen (blog)
Mar 25. 2012
The fantastic journey of three books (blog)
Mar 24. 2012
Danish tube fly inspiration
Mar 23. 2012
Shrimp anatomy for the fly tyer
Mar 21. 2012
Fishy photos: Henry Hegeman
Mar 20. 2012
Nick Laferriere
Mar 18. 2012
Expensive books (blog)
Mar 17. 2012
Mini Pig
Mar 15. 2012
Light Curing Resins
Mar 15. 2012
Fishy photos: Nick Price
Mar 15. 2012
Favorite Flies for Baltic Seatrout
Mar 6. 2012
Pinky Pain
Mar 3. 2012
Rolled Muddler
Mar 3. 2012
Djihad
Mar 3. 2012
Seatrout flies for 2012
Mar 3. 2012
Brenda
Mar 2. 2012
PK Mysis Variant
Mar 2. 2012
Fishing Sense (review)
Mar 2. 2012
Favorite flies (blog)
Feb 29. 2012
Atlantic Salmon Flies of Nova Scotia (review)
Feb 27. 2012
The African fly connection (blog)
Feb 26. 2012
Jason Tison
Feb 25. 2012
Flywater (review)
Feb 25. 2012
8 minutes ago (blog)
Feb 24. 2012
Fishy photos: Corey Kruitbosch
Feb 21. 2012
Bass Bug Basics (review)
Feb 20. 2012
Fly pictures
Feb 17. 2012
GFF is on Facebook!
Feb 16. 2012
Fishy photos: Angus Drummond
Feb 10. 2012
How to submit a pattern to GFF
Feb 9. 2012
Fishy photos: Aleksandar Vrtaric
Feb 7. 2012
Streams of Dreams (review)
Feb 7. 2012
Casting illusions (review)
Feb 7. 2012
Guide Flies (review)
Feb 7. 2012
Century end (review)
Feb 7. 2012
Flies, Flowers, Fur and Feather (review)
Feb 7. 2012
Trout at Ten Thousand Feet (review)
Feb 7. 2012
I did it again (blog)
Feb 7. 2012
Juan Jose Serra
Feb 6. 2012
Fishy photos: Jim Levison
Feb 6. 2012
Fishy photos: Mark Lance
Feb 4. 2012
Fishy photos: Jim Klug
Feb 3. 2012
What's The Global FlyFisher worth? (blog)
Feb 3. 2012
How to fish with more than one fly
Jan 11. 2012
Jack Plotts' Foam flies
Dec 25. 2011
The Fish & The Fly Q&A
Dec 8. 2011
Book couriers wanted
Dec 6. 2011
Thunder Creek Flies (review)
Nov 30. 2011
Facts about GFF
Nov 27. 2011
Rolled Trout
Nov 26. 2011
Patagonian Silver (review)
Nov 26. 2011
The Fish & The Fly 3 (review)
Nov 25. 2011
The Fish & The Fly 1 (review)
Nov 25. 2011
Authors, filmmakers, artists, publishers!
Nov 12. 2011
Essential Saltwater Flies (review)
Nov 10. 2011
Saltwater Fly Patterns (review)
Nov 10. 2011
Dyeing and Bleaching (review)
Nov 10. 2011
Chalk Streams and Lazy Trout (review)
Nov 10. 2011
Friends on the Water (review)
Nov 10. 2011
Trout of the World (review)
Nov 10. 2011
New (old) books (blog)
Nov 10. 2011
AD Maddox
Nov 9. 2011
Stepping into the Stream Q&A
Nov 2. 2011
A Backyard in Nowhere Q&A
Nov 1. 2011
A Backyard in Nowhere (review)
Oct 29. 2011
Heads or Tails (review)
Oct 29. 2011
A new look
Oct 28. 2011
The bag trick
Oct 27. 2011
Fly-fishing the 41st (review)
Oct 22. 2011
In Iceland, not fishing... almost (blog)
Oct 21. 2011
Stepping into the Stream (review)
Oct 13. 2011
The shoulder thing (blog)
Oct 13. 2011
Fishing Season (review)
Oct 11. 2011
Grantham's Sedge
Oct 7. 2011
Used books and DVDs (blog)
Oct 6. 2011
Fly Fishing the World (review)
Oct 4. 2011
Casting At Shadows (review)
Sep 28. 2011
When lightning strikes
Sep 22. 2011
Don't wade, you idiot!
Sep 19. 2011
Car rod holders
Sep 18. 2011
Major Traherne's flies
Sep 1. 2011
Steelhead Beetle
Aug 29. 2011
Martin's Mundane Shrimp
Aug 28. 2011
Martin's Mundane Zonker Worm
Aug 28. 2011
Autumn Gallery
Aug 20. 2011
The only knot
Aug 14. 2011
Fishing a bubble
Aug 13. 2011
2K+!
Aug 9. 2011
Urban Flyfishing (review)
Aug 2. 2011
Night of the Hex (review)
Jul 31. 2011
Musky Country (review)
Jul 31. 2011
Sea Trout Gear
Jul 20. 2011
Destination Trout - New Zealand (review)
Jul 20. 2011
The Source - Iceland (review)
Jul 20. 2011
The Terrible Muddler
Jul 17. 2011
The CDC & Elk family
Jul 16. 2011
Close to the surface
Jul 12. 2011
Lake fishing in Sweden
Jul 11. 2011
The Source - New Zealand (review)
Jul 11. 2011
Bonefish Fly Patterns (review)
Jul 10. 2011
DIY brushes and combs
Jul 10. 2011
Moving day... again! (blog)
Jul 9. 2011
Tapâm Q&A
Jul 1. 2011
Plu Stiniog (review)
Jul 1. 2011
Modern fly fishing (review)
Jun 25. 2011
Robin Armstrong
Jun 20. 2011
The Killer Shrimp
Jun 18. 2011
The Bloody Zonker
Jun 17. 2011
Ken's Cuteling
Jun 16. 2011
A terrible day on GFF! (blog)
Jun 15. 2011
Tarpon fly fishing
Jun 15. 2011
Fly fishing knots
Jun 15. 2011
Better Fishing Pictures
Jun 15. 2011
Squid patterns
Jun 15. 2011
Pike Flies
Jun 15. 2011
Tube flies
Jun 15. 2011
Wooly Bugger Patterns
Jun 15. 2011
Cast Alaska (review)
Jun 13. 2011
The Essential Kelson (review)
Jun 13. 2011
My book obsession
Jun 3. 2011
GFF lives! (blog)
May 25. 2011
The Christmas Tree
May 22. 2011
The Clouserish
May 20. 2011
Clouser Deep Minnow
May 20. 2011
Deep sea flies (blog)
May 11. 2011
Sea Trout Secrets 1-4 (review)
May 4. 2011
River Academy (review)
May 3. 2011
Trout with bacon
May 1. 2011
Where to fish
Apr 25. 2011
Spring 2011
Apr 22. 2011
Klympen
Apr 13. 2011
Red Tag
Apr 12. 2011
I said so! (blog)
Apr 1. 2011
Danish Fly Festival (blog)
Mar 28. 2011
Casts that Catch Fish (review)
Mar 6. 2011
A long winter
Mar 5. 2011
Tapâm (review)
Mar 4. 2011
New GFF book
Feb 13. 2011
2010 on GFF
Jan 1. 2011
What I (don't) want
Dec 25. 2010
Feeding Time (review)
Dec 20. 2010
Unsinkable flies
Nov 27. 2010
Rise in Malmo (blog)
Nov 26. 2010
Fly Film Festival (blog)
Nov 12. 2010
How to act right
Nov 11. 2010
Zoo Cougar
Nov 6. 2010
Frida
Oct 31. 2010
How to look good
Oct 6. 2010
Martin's Mundane Sand Eel
Jun 20. 2010
Martin's Mundane Fly Project
Jun 20. 2010
The Anglers Paradise (review)
Jun 8. 2010
Green Tide (review)
May 11. 2010
Sea Trout Secrets (blog)
May 10. 2010
My new toy (blog)
Apr 6. 2010
Shooting lines
Apr 2. 2010
New age epoxy (blog)
Mar 29. 2010
1st spring trip
Mar 27. 2010
Pike on the Fly (review)
Mar 24. 2010
Journey of a Thousand Casts (review)
Mar 22. 2010
The Dead Drift (review)
Mar 21. 2010
Equilibrium (review)
Mar 21. 2010
Mayfly Madness (review)
Mar 21. 2010
Fly Reel Blues
Feb 18. 2010
Rise + Drift (review)
Feb 17. 2010
Fly Line Blues
Feb 16. 2010
Unsinkable Dry Flies (review)
Feb 13. 2010
On sale! (blog)
Feb 13. 2010
Shoot the weather
Feb 12. 2010
Pictures of nature
Feb 10. 2010
Another one! (blog)
Feb 6. 2010
Small Fry (review)
Jan 31. 2010
Rivers of a Lost Coast (review)
Jan 31. 2010
Gotta try carp (blog)
Jan 29. 2010
Raising the Ghost (review)
Jan 24. 2010
Jim Roszel
Jan 22. 2010
Revolution (review)
Jan 19. 2010
A different tube system (blog)
Jan 15. 2010
Per Gade
Jan 14. 2010
10 rules for C&R
Jan 9. 2010
GFF had a heart stop (blog)
Jan 6. 2010
Fish Eye 4 (review)
Jan 4. 2010
Soulfish (review)
Jan 4. 2010
Red Gold (review)
Dec 17. 2009
Catch the moment (review)
Dec 17. 2009
Czech Nymph DVD (review)
Dec 16. 2009
Giants of the Em (review)
Dec 16. 2009
The Source - Tasmania (review)
Dec 15. 2009
A new breed
Dec 8. 2009
Videos on GFF
Dec 5. 2009
Heads or tails (blog)
Nov 14. 2009
BC Chronicles part 3 (blog)
Nov 14. 2009
Pesca a mosca (review)
Nov 12. 2009
Nervous Water DVD (review)
Nov 12. 2009
Fly Fisherman's Guide to Saltwater Prey (review)
Nov 12. 2009
The Scandinavian Spey Cast - Part II (review)
Nov 12. 2009
The BC Chronicles part 2 (blog)
Sep 9. 2009
Picky Bastard Cork (blog)
Aug 22. 2009
1000!
Jun 25. 2009
Tying Furled Flies (review)
Jun 15. 2009
Gear pictures
Jun 14. 2009
The White
May 16. 2009
DeYoung all over (blog)
May 15. 2009
Once in a Blue Moon (review)
May 9. 2009
Breaking the LAW
May 5. 2009
Tupperware-party with fly rods (blog)
Apr 28. 2009
Baskets, trays, buckets
Apr 13. 2009
The BC Chronicles part 1 (blog)
Apr 12. 2009
Bent Rods
Apr 2. 2009
Rügen bound (blog)
Apr 2. 2009
The Copper Bully
Mar 15. 2009
Hare's Ear Bug
Mar 15. 2009
The Charlie Fly
Mar 12. 2009
Cabin fever (blog)
Mar 8. 2009
GFF on Twitter
Feb 18. 2009
Twitter (blog)
Feb 14. 2009
Waterscapes
Feb 2. 2009
Sean Seal
Jan 27. 2009
Whipfinish video
Jan 23. 2009
This is Fly (blog)
Jan 15. 2009
Magnus
Jan 7. 2009
Jan-Ole Willers
Jan 4. 2009
GFF heartbeat
Jan 1. 2009
A New Year (blog)
Jan 1. 2009
Big Hole Demon
Dec 21. 2008
The Search (review)
Dec 18. 2008
The Lost World of Mr. Hardy (review)
Dec 11. 2008
The Omoe Brush
Dec 5. 2008
Thomas Weiergang
Dec 4. 2008
Gotta have! (blog)
Nov 24. 2008
The Grey Fred
Nov 22. 2008
Getting there (blog)
Nov 15. 2008
Moved! (blog)
Nov 6. 2008
Moving soon (blog)
Nov 5. 2008
Green Machine
Nov 4. 2008
Très Bien
Nov 2. 2008
The Overtaker
Nov 2. 2008
The Dirty White
Nov 2. 2008
Chinese White
Oct 25. 2008
Staring Sunray Shadow
Oct 25. 2008
GFF Summit 2008
Oct 23. 2008
Partly moved (blog)
Oct 2. 2008
Moving... again (blog)
Sep 21. 2008
It's over! (blog)
Sep 15. 2008
Fish Bum Volume I: Mongolia (review)
Jul 10. 2008
GFF Summit 2008
Jul 4. 2008
Bob White
Jul 3. 2008
A Celebration of Salmon Rivers (review)
Jun 16. 2008
Hardy DVD (blog)
Jun 16. 2008
Shooting head fisher? (blog)
Jun 12. 2008
Niels' flies
Jun 11. 2008
The Graphite Fly Rod (review)
Jun 5. 2008
GFF Summit 2008 (blog)
May 30. 2008
Ireland bound (blog)
May 18. 2008
Fly Fishing for Bonefish (review)
May 17. 2008
King of the moonfish (blog)
Apr 29. 2008
Florida bound (blog)
Apr 13. 2008
Beautiful video (blog)
Mar 23. 2008
Spring, snow, stress and flu (blog)
Mar 4. 2008
Bloody weather! (blog)
Jan 30. 2008
Absolutely last trip! (blog)
Jan 1. 2008
Severely struck (blog)
Dec 28. 2007
Merry Christmas
Dec 24. 2007
Grey, grey, grey! (blog)
Dec 11. 2007
GFF Summit 2007
Nov 19. 2007
Taimen crazy (blog)
Nov 16. 2007
The Ugliest Flies
Nov 15. 2007
Summit pictures (blog)
Nov 14. 2007
Geir Kjensmo
Nov 8. 2007
Wanna help? (blog)
Oct 23. 2007
A dumb move (blog)
Oct 20. 2007
Wanna contribute?
Oct 12. 2007
Great little roadshow (blog)
Oct 10. 2007
Off to the Summit (blog)
Sep 21. 2007
Hatches facts (blog)
Sep 13. 2007
New magazine (blog)
Sep 13. 2007
Podcast hiatus (blog)
Sep 3. 2007
The two Rangá's
Sep 2. 2007
Salmon! (blog)
Aug 30. 2007
Styles and Patterns
Aug 22. 2007
Tube Tying Techniques
Aug 20. 2007
Tube Fly Tying Tools
Aug 20. 2007
Tube Ressources
Aug 20. 2007
Tube Style Plate
Aug 16. 2007
Mullets and cows! (blog)
Aug 8. 2007
Nice online flyshop (blog)
Aug 5. 2007
Tube Flies (review)
Jul 29. 2007
Vaughn Cochran
Jul 27. 2007
Great rod tests (blog)
Jul 20. 2007
Monster trout! (blog)
Jul 19. 2007
Cool, crazy flies (blog)
Jul 17. 2007
Tie a muddler
Jul 14. 2007
Yoshikazu Fujioka
Jul 12. 2007
Tube Styles
Jul 11. 2007
Tube Basics
Jul 11. 2007
Server upgrading (blog)
Jul 10. 2007
Fly tying weather (blog)
Jul 8. 2007
Russia rules! (blog)
Jul 7. 2007
Running down the man (review)
Jul 6. 2007
Tube Fly Turmoil
Jun 22. 2007
Behind GFF
Jun 21. 2007
GFF Summit 2007
Jun 21. 2007
50$ fly rod/reel/line (blog)
Jun 13. 2007
Burning Man
Jun 11. 2007
Rainbows and virus (blog)
Jun 11. 2007
It works! (blog)
Jun 4. 2007
Fifty Places to Fly Fish Before You Die (review)
May 31. 2007
Burning Man (blog)
May 30. 2007
Loughs of Ireland (review)
May 27. 2007
Trout Bum Diaries - Kiwi Camo (review)
May 27. 2007
The Hatch (review)
May 22. 2007
Tube Flies Two: Evolution (review)
May 22. 2007
The man (blog)
May 22. 2007
Today is GFF day (blog)
May 17. 2007
Bloody Butcher
May 14. 2007
Sunray Shadow
May 9. 2007
Too much work (blog)
May 7. 2007
Fishing! (blog)
Mar 25. 2007
Waiting for spring
Mar 8. 2007
Philadelphia on the Fly (review)
Mar 1. 2007
The move that never came (blog)
Feb 16. 2007
And in English (blog)
Feb 8. 2007
Clear Water
Feb 6. 2007
Sea trout DVD's (blog)
Feb 6. 2007
A Passion for Pike (review)
Jan 25. 2007
Summer in Europe (review)
Jan 25. 2007
Caps status (blog)
Jan 24. 2007
Matt Zudweg
Jan 21. 2007
Yes, we have wind too! (blog)
Jan 18. 2007
Derek DeYoung
Jan 2. 2007
Cheated! (blog)
Dec 12. 2006
More Jorgensen (blog)
Dec 5. 2006
Server blues... again (blog)
Nov 22. 2006
Poul Jorgensen video (blog)
Nov 14. 2006
Mel Krieger's Patagonia (review)
Oct 31. 2006
GFF Caps (blog)
Oct 10. 2006
Summit pictures (blog)
Oct 8. 2006
I wish (blog)
Oct 7. 2006
Master your Fly Casting! (review)
Oct 2. 2006
GFF Summit
Sep 19. 2006
First autumn day (blog)
Sep 3. 2006
Messy Pike Fly
Sep 1. 2006
Not quite (blog)
Aug 9. 2006
The Trout Bum Diaries (review)
Jul 24. 2006
The Plipper
Jul 13. 2006
Fly Fishing for Mullet (review)
Jul 4. 2006
Mullet hunting! (blog)
Jun 30. 2006
GFF Summit 2006
Jun 24. 2006
Casting pictures
Jun 20. 2006
Macro
Jun 20. 2006
Jump!
Jun 16. 2006
Mel Krieger (blog)
Jun 6. 2006
Ad Swier
Jun 5. 2006
Rod Sutterby
Jun 5. 2006
Diane Michelin
Jun 5. 2006
Compose
Jun 1. 2006
Flycasting Faults & Fixes (review)
May 31. 2006
Bumpy GFF (blog)
May 31. 2006
Forum down (blog)
May 28. 2006
Underexpose
May 21. 2006
Modern Spey Casting (review)
May 19. 2006
Use a tripod
Apr 28. 2006
Glorious light
Apr 27. 2006
What a day! (blog)
Apr 23. 2006
Global braid (blog)
Apr 20. 2006
Cool pictures (blog)
Apr 18. 2006
Bornholm 2006
Apr 17. 2006
Flies as art (review)
Apr 13. 2006
Flyfishing in Ireland (review)
Apr 13. 2006
Fishy pictures
Apr 12. 2006
Bring it!
Apr 12. 2006
Strange X-Mas
Apr 9. 2006
Bornholm! (blog)
Mar 30. 2006
Fish Flies I and II (review)
Mar 29. 2006
Fly Fishing the Great Western Rivers (review)
Mar 29. 2006
Fly Waters Near & Far (review)
Mar 29. 2006
Woolly Wisdom (review)
Mar 29. 2006
New forum
Mar 24. 2006
Like in zero? (blog)
Mar 20. 2006
La Muerte
Feb 28. 2006
Make that 15,000 (blog)
Feb 27. 2006
A million trout (blog)
Feb 27. 2006
Forum thoughts (blog)
Feb 23. 2006
The measure tape
Feb 22. 2006
New shooting line (blog)
Feb 22. 2006
Perfect Camera
Feb 18. 2006
Use a fill flash
Feb 17. 2006
Go low
Feb 16. 2006
Casting instruction instruction (blog)
Feb 15. 2006
No Fly Fair! (blog)
Feb 13. 2006
Go close
Feb 4. 2006
Dogma framing
Feb 1. 2006
Danish winter
Jan 25. 2006
The Cautery
Jan 22. 2006
Server Blues (blog)
Jan 19. 2006
Podcast intro
Jan 15. 2006
Wheee! (blog)
Jan 10. 2006
Charts (blog)
Jan 10. 2006
DIY Tying Station
Jan 4. 2006
Une Création
Dec 29. 2005
Fish Fights: A Hall of Fame Quest (review)
Dec 28. 2005
Merry Christmas
Dec 24. 2005
The Trout and the Fly (review)
Dec 22. 2005
Merlin's Daily Fishing Calendar 2006 (review)
Dec 21. 2005
Clouser hook (blog)
Dec 20. 2005
Classic Clouser (blog)
Dec 20. 2005
Amazing flies (blog)
Dec 13. 2005
Fill-the-box
Dec 12. 2005
The Hatch (blog)
Dec 12. 2005
Bass gizmos (blog)
Dec 10. 2005
Nerd stuff (blog)
Dec 7. 2005
Great mullet video (blog)
Dec 6. 2005
Don't freeze
Dec 2. 2005
The Art of the Atlantic Salmon Fly (review)
Nov 24. 2005
Spey Flies and Dee Flies (review)
Nov 24. 2005
Hairwing & Tube Flies for Salmon (review)
Nov 24. 2005
Pike Landing
Nov 17. 2005
Pike rods (blog)
Nov 15. 2005
Pike! (blog)
Nov 6. 2005
Sexyloops (blog)
Nov 1. 2005
Four stream rods
Oct 31. 2005
Fantastic weeks! (blog)
Oct 17. 2005
Copies! (blog)
Sep 29. 2005
Trout Grass (review)
Sep 26. 2005
Bonefish biology
Sep 14. 2005
Boney Flies
Sep 13. 2005
Do's and dont's
Sep 13. 2005
Fireplace bonefishing
Sep 13. 2005
Life is good
Sep 13. 2005
The ghost and I
Sep 13. 2005
Bonefish Theme
Sep 13. 2005
In Search of a Rising Tide (review)
Sep 12. 2005
Heads
Sep 6. 2005
Fins
Sep 3. 2005
Do you? (blog)
Sep 3. 2005
Death and the flybox (blog)
Sep 2. 2005
Tails
Aug 31. 2005
Theft! (blog)
Aug 28. 2005
100 Weird Ways to Catch Fish (review)
Aug 21. 2005
Fly-Fishing for Bonefish (review)
Aug 20. 2005
Re: Bream (blog)
Aug 19. 2005
Bream (blog)
Aug 18. 2005
Cat days? (blog)
Aug 7. 2005
Too many fish... (blog)
Aug 1. 2005
Submit your pictures (blog)
Jul 20. 2005
Comment this! (blog)
Jul 18. 2005
A decade with GFF
Jul 12. 2005
Grand Opening
Jul 12. 2005
Landing pike (blog)
Jul 7. 2005
MidCurrent.com (blog)
Jul 2. 2005
I asked for it (blog)
Jun 28. 2005
Favorite sites (blog)
Jun 27. 2005
New search (blog)
Jun 22. 2005
Boot Blues
Jun 16. 2005
Practise, man! (blog)
Jun 13. 2005
Popper fun (blog)
Jun 7. 2005
How simple can it get?
May 30. 2005
Where'd they go? (blog)
May 28. 2005
Darth Vader Nymph
May 26. 2005
Step on it! (blog)
May 9. 2005
First setup
May 4. 2005
Fantastic spring (blog)
Apr 19. 2005
DIY Epoxy Rotor
Mar 17. 2005
In awe (blog)
Mar 17. 2005
AquaFly flybox
Mar 12. 2005
Winter coast
Mar 7. 2005
Jacket Blues
Mar 3. 2005
Tracking you (blog)
Feb 26. 2005
Beginner's Buzzer
Feb 20. 2005
The Triangle Fly
Feb 12. 2005
The adventurous fly rod (review)
Feb 6. 2005
Bright future (blog)
Jan 25. 2005
Beautiful day (blog)
Jan 23. 2005
Branchu
Jan 23. 2005
January fish (blog)
Jan 16. 2005
Fall trout (blog)
Jan 5. 2005
Happy New Year! (blog)
Dec 31. 2004
Merry Christmas! (blog)
Dec 25. 2004
Did go, was dull (blog)
Dec 22. 2004
Dull, dull, dull... (blog)
Dec 13. 2004
GFF e-cards (blog)
Nov 23. 2004
Paul's diary (blog)
Nov 20. 2004
GFF 10 years old (blog)
Nov 12. 2004
A smart spooler
Nov 5. 2004
Fly Fishing California's Great Waters (review)
Oct 24. 2004
Great fish, Bob (blog)
Oct 19. 2004
BC in B/W
Oct 16. 2004
My GFF cap gone! (blog)
Oct 10. 2004
Rio Piratos
Oct 9. 2004
Europe's Cutest Potbelly (blog)
Sep 14. 2004
Europe's Greatest Sandwich (blog)
Sep 13. 2004
Rod Magnets
Sep 12. 2004
Whirly gig (blog)
Sep 1. 2004
Ouch! (blog)
Aug 30. 2004
Summer has gone (blog)
Aug 29. 2004
Chained, really (blog)
Aug 26. 2004
Heat (blog)
Aug 9. 2004
Spotless fly
Aug 9. 2004
Hillbilly Copper John
Jul 30. 2004
Tour de France tying
Jul 25. 2004
Welsh, mate!
Jul 14. 2004
A rainy November (blog)
Jul 13. 2004
Leaders&Tippets Q&A
Jul 2. 2004
Fishing Online: 1,000 Best Websites (review)
Jun 30. 2004
Danish gallery
Jun 28. 2004
Spinning (blog)
Jun 13. 2004
Re: Envy, envy! (blog)
Jun 7. 2004
Envy, envy! (blog)
Jun 2. 2004
Three in Norway, by two of them (review)
May 23. 2004
Salmon, Trout & Charr Of The World (review)
May 22. 2004
Pictures in books (blog)
May 22. 2004
Little Devil
May 19. 2004
Never again! (blog)
May 18. 2004
Going deep
Apr 19. 2004
Preparing for Bornholm (blog)
Mar 17. 2004
A five sea trout day (blog)
Mar 16. 2004
Spring around the corner (blog)
Mar 11. 2004
First fish (blog)
Feb 29. 2004
Danish Pastry Fly
Feb 27. 2004
Bumpy Mexico
Feb 19. 2004
Iceland, 5½ days
Feb 13. 2004
Backgrounds
Feb 5. 2004
Digitizing Flies
Jan 27. 2004
New facilities (blog)
Jan 26. 2004
Black Funnel
Jan 25. 2004
Largely painless server move (blog)
Jan 12. 2004
GFF on a new server (blog)
Jan 5. 2004
New Zealand Trophy Waters (review)
Dec 25. 2003
Best wishes (blog)
Dec 24. 2003
Lamson's new reels (blog)
Dec 18. 2003
First snow and New Zealand (blog)
Dec 15. 2003
Czech nymphing (blog)
Dec 10. 2003
Bonefish Bitters
Dec 9. 2003
Disk Space Blues (blog)
Dec 1. 2003
Before the talkies (blog)
Nov 25. 2003
100 days! 10 years! (blog)
Nov 24. 2003
Winter waders (blog)
Nov 19. 2003
So this is Xmas..?! (blog)
Nov 11. 2003
Earning my luck (blog)
Nov 3. 2003
Fly Rodding the Coast (review)
Oct 22. 2003
Lucky me! (blog)
Oct 17. 2003
Mad dogs... (blog)
Oct 7. 2003
End of the rainbow
Sep 28. 2003
Blackout Kluting (blog)
Sep 24. 2003
In the pipeline (blog)
Sep 21. 2003
Soucie's many books (blog)
Sep 13. 2003
One of those days (blog)
Sep 7. 2003
Rainbows galore (blog)
Sep 5. 2003
Autumn season begins (blog)
Sep 1. 2003
Framing flies (blog)
Aug 28. 2003
Chill in the water (blog)
Aug 25. 2003
All work and no play (blog)
Aug 24. 2003
Iceland (blog)
Aug 23. 2003
New Zealand (blog)
Aug 21. 2003
Chub and bream (blog)
Aug 20. 2003
Fun with slides (blog)
Aug 19. 2003
Denver Tackle Dealer Show (blog)
Aug 18. 2003
Interesting tools (blog)
Aug 17. 2003
Still warm (blog)
Aug 17. 2003
Second for the same day (blog)
Aug 15. 2003
First GFFBlog entry (blog)
Aug 15. 2003
River Mandal
Aug 8. 2003
Spring 2003 pictures
Aug 1. 2003
SHCZCDNTM
Jul 30. 2003
Great rod gizmo!
Apr 25. 2003
Rotary vices
Feb 16. 2003
Grayling trip
Feb 10. 2003
Real Enough!
Jan 16. 2003
Monic Light Green
Dec 22. 2002
The Curtis Creek Manifesto (review)
Dec 10. 2002
Screwhead Matuka
Dec 8. 2002
The Mörrum Circus
Nov 30. 2002
Extreme Flyfishing (review)
Nov 26. 2002
Essential Skills - 6 volumes (review)
Nov 25. 2002
Fly line anatomy
Nov 24. 2002
Fly Fishing the Pacific Inshore (review)
Nov 23. 2002
Selecting a kayak
Nov 18. 2002
Kayakfishing (review)
Nov 18. 2002
Catch that fish (review)
Nov 11. 2002
Tough rod!
Nov 10. 2002
Shrimp & Spey Flies for Salmon (review)
Oct 29. 2002
Bonefishing! (review)
Oct 29. 2002
Copper Frede
Oct 26. 2002
Splayed-A-Live
Oct 25. 2002
Saved soles
Oct 25. 2002
Brush eyes
Oct 18. 2002
CZCDNTM
Oct 15. 2002
Edwards' Little Ant
Oct 15. 2002
Small and large flies for sea trout
Oct 14. 2002
The Bjarke
Oct 1. 2002
10 ways
Oct 1. 2002
The Match Shrimp
Sep 24. 2002
Waddington shanks
Sep 14. 2002
Shooting heads
Sep 1. 2002
Mark Vagn Hansen, Denmark
Aug 11. 2002
The Dalby Dribbler
Aug 11. 2002
Belize it!
Jul 21. 2002
Illustrated knot table
Jun 30. 2002
The last Fly Fair?
Jun 1. 2002
Summer 2002
May 2. 2002
Salty pike
May 2. 2002
Spring 2002
May 1. 2002
Pike fishing
Apr 1. 2002
Fly gallery 2002
Apr 1. 2002
IFTS 2001
Mar 14. 2002
Our link policy
Feb 4. 2002
Hello Austria!
Feb 1. 2002
Permission to copy
Feb 1. 2002
Muddler mania
Jan 18. 2002
My Fly Box
Jan 2. 2002
GFF screensavers
Jan 2. 2002
Muddler mania - Small Polar Muddler
Jan 1. 2002
The Rocket
Jan 1. 2002
The Orange Silver
Jan 1. 2002
Dalby Revenger
Jan 1. 2002
Loch Dhu Salmon
Jan 1. 2002
Distant Waters
Jan 1. 2002
Inspiration
Jan 1. 2002
Tying a muddler
Jan 1. 2002
Monster Muddler
Jan 1. 2002
Salt Water Caddis
Jan 1. 2002
Turbo Block
Jan 1. 2002
Fly fishing leaders and tippets
Jan 1. 2002
The High Sierras
Jan 1. 2002
Whip fisnish with your hands
Jan 1. 2002
Thread control
Jan 1. 2002
Knots for the fly fisherman
Jan 1. 2002
GFF speaks
Jan 1. 2002
Privacy policy
Jan 1. 2002
Fishing in the North East
Jan 1. 2002
The Bumble Bee
Dec 15. 2001
Contributor guidelines
Nov 1. 2001
Bunny Leech
Oct 10. 2001
The Black Frede
Oct 10. 2001
The Bottle Cleaner
Oct 10. 2001
Advertising policy
Oct 10. 2001
David
Oct 9. 2001
Christmas Tree
Oct 9. 2001
The Fair Fly
Oct 9. 2001
Crazy Dane
Oct 9. 2001
Morrisfoam Diver
Sep 14. 2001
Grey Frede
Sep 11. 2001
A Black Fly
Sep 9. 2001
An experiment
Sep 8. 2001
Sand eel/lance
Sep 7. 2001
Henning's Snot
Sep 4. 2001
Wind considerations
Sep 3. 2001
The Spade - Green GP feathers
Sep 3. 2001
Salt water spiders
Sep 2. 2001
Gift wrapping string fly
Sep 1. 2001
Muddler spec.
Aug 29. 2001
Making loops
Jul 1. 2001
Festival fishing
Jun 1. 2001
Rock Island
May 1. 2001
Sawada tubes
Feb 10. 2001
Book review policy
Feb 3. 2001
Ken Bonde Larsen
Feb 1. 2001
Staff writer Eric Arbogast
Feb 1. 2001
Submit a comment
Feb 1. 2001
Squirrel streamer
Jan 1. 2001
Omoe Brush
Jan 1. 2001
Opossum Shrimp
Jan 1. 2001
The Moor Fly
Jan 1. 2001
Marvin Nolte, USA
Jan 1. 2001
Fish in puff pastry case
Jan 1. 2001
Hook anatomy
Jan 1. 2001
Raising chickens
Jan 1. 2001
Tying on hard hair wings
Jan 1. 2001
The Moyerfokker
Jan 1. 2001
Claus Bech-Petersen, Denmark
Jan 1. 2001
Soeren Glerup, Denmark
Jan 1. 2001
Dyeing material
Jan 1. 2001
The eel smelling shrimp
Jan 1. 2001
Jim Hauer
Jan 1. 2001
Hans Weilenmann
Jan 1. 2001
Preben Torp Jacobsen, Denmark
Jan 1. 2001
The Mia Fly
Jan 1. 2001
Roman Scharabun
Jan 1. 2001
Review ratings
Jan 1. 2001
Martin Joergensen, GFF editor
Jan 1. 2001
Garfish on a flyrod
May 17. 2000
Palmer hackling
May 10. 2000
21st century
May 1. 2000
Applying dubbing
Mar 1. 2000
Laksefluer (Salmon Flies)
Feb 29. 2000
Tube Muddler
Feb 1. 2000
Monofilament eyes
Jan 20. 2000
Better tinsel bodies
Jan 11. 2000
Opossum
Jan 10. 2000
Nutria muddler
Jan 10. 2000
Bead chain eyes
Jan 9. 2000
Derek from SA
Dec 30. 1999
The Red Fly
Dec 11. 1999
Dave Lewis, USA
Dec 10. 1999
Chillimps
Dec 5. 1999
Tying Foam Flies
Dec 1. 1999
Valeur's Pike Streamer
Nov 1. 1999
Cone head flies
Oct 10. 1999
Waterworks ULA reel
Oct 1. 1999
Eyes from pearls
Sep 20. 1999
Red Tag Palmer
Sep 12. 1999
Bullet Head Magnus
Sep 5. 1999
What fish see (review)
Sep 4. 1999
The Idiot
Aug 21. 1999
Selecting hooks for saltwater
Aug 19. 1999
Night trip
Aug 11. 1999
The Femmer Crab
Aug 9. 1999
Benjamin Waedeled
Jul 31. 1999
Fish in cream sauce
Jun 10. 1999
La mosca ahogada (review)
Jun 1. 1999
Umbrella for streams
May 1. 1999
Fly Fishing the Mountain Lakes (review)
Apr 26. 1999
Goats and lakes
Apr 26. 1999
Fly Tying Tips & Reference Guide (review)
Apr 20. 1999
500 tying tips
Apr 20. 1999
Bubble float
Mar 1. 1999
A Perfect Fish (review)
Jan 1. 1999
November 16th 1998 (blog)
Nov 16. 1998
November 10th 1998 (blog)
Nov 10. 1998
Archive
Oct 21. 1998
October 10th 1998 (blog)
Oct 10. 1998
The Flee
Oct 9. 1998
Fall 1998 Gallery
Oct 5. 1998
October 1998 pictures
Oct 1. 1998
September 6th 1998 (blog)
Sep 6. 1998
Stripers, An Angler's Anthology (review)
Aug 29. 1998
Striper anthology
Aug 29. 1998
Umbrella
Aug 8. 1998
July 11th 1998 (blog)
Jul 11. 1998
The New Flee
Jun 12. 1998
Kluting
Jun 1. 1998
Mullet
Jun 1. 1998
Orange Twist
May 11. 1998
May 11th 1998 (blog)
May 11. 1998
Saltwater Flyfishing (review)
May 5. 1998
Euro flyfishing
May 5. 1998
Wet fly hackle
Apr 20. 1998
April 12th 1998 (blog)
Apr 12. 1998
Spring 1998 Gallery
Apr 1. 1998
Banderillas
Feb 15. 1998
Fish cakes
Feb 11. 1998
Cheapskate Heron
Jan 12. 1998
Cod on a flyrod
Jan 1. 1998
International Fly Tyers Symposium 1997
Dec 12. 1997
November 5th 1997 (blog)
Nov 5. 1997
The Crab
Oct 20. 1997
October 17th 1997 (blog)
Oct 17. 1997
Fisker tube tool
Oct 5. 1997
Twist of Lemon
Jul 1. 1997
Fly Festival Pictures 1997
Jun 15. 1997
Chilli Pepper Flies
Jun 12. 1997
Flies from the Flyleaves of my Diaries (review)
May 27. 1997
May 25th 1997 (blog)
May 25. 1997
The Shank
May 11. 1997
Magnus Muddler
May 5. 1997
April 23rd 1997 (blog)
Apr 23. 1997
March 6th 1997 (blog)
Mar 6. 1997
Chris Helm, USA
Feb 10. 1997
January 20th 1997 (blog)
Jan 20. 1997
Miss Ring
Jan 1. 1997
December 12th 1996 (blog)
Dec 12. 1996
The Magnus
Nov 30. 1996
Tyer gallery
Nov 24. 1996
International Fly Tying Symposium 1996
Nov 24. 1996
Beads and eyes
Nov 13. 1996
October 30th 1996 (blog)
Oct 30. 1996
Monster Muddlers
Oct 24. 1996
Float Tube Regatta 1996
Oct 15. 1996
The biggest catch - hooking yourself
Oct 7. 1996
My float tube is a Sputnik
Sep 15. 1996
August 6th 1996 (blog)
Aug 6. 1996
Poul Jorgensen flies
Aug 1. 1996
June 9th 1996 (blog)
Jun 9. 1996
Hooks break
Jun 6. 1996
Fly tyers gallery
Jun 1. 1996
IPS 96
Jun 1. 1996
May 31st 1996 (blog)
May 31. 1996
Fly Fair 1996
May 30. 1996
Roman Moser, Austria
May 20. 1996
A day of fun and fly tying
May 15. 1996
May 13th 1996 (blog)
May 13. 1996
A.K.'s Fly Box
May 12. 1996
April 29th 1996 (blog)
Apr 29. 1996
April 26th 1996 (blog)
Apr 26. 1996
Making a wading staff
Apr 22. 1996
April 20th 1996 (blog)
Apr 20. 1996
Juro Mukai's shooting head setup
Apr 20. 1996
Linked flies
Apr 17. 1996
Start of April 1996 (blog)
Apr 4. 1996
Float Tube Magic - A Fly Fishing Escape
Mar 20. 1996
Squirrel zonker
Mar 14. 1996
Winter fishing
Mar 1. 1996
Glitter Shrimp
Jan 20. 1996
The Mymph
Jan 20. 1996
The Essence of Flycasting
Jan 18. 1996
Mysid
Jan 12. 1996
Bas Verschoor
Jan 1. 1996
Small muddler
Dec 14. 1995
Surf zone fishing
Dec 1. 1995
US North West fishing
Nov 1. 1995
Magnus Classic
Oct 14. 1995
Full Metal Jacket Nutria Muddler, variations
Sep 10. 1995
Aquatic trout foods
Aug 20. 1995
How to dress salmon flies
Jun 26. 1995
Striper Moon (review)
Jun 23. 1995
Sepp Fuchs' Gallery
Jun 13. 1995
One summer night
Jun 12. 1995
Cod
Jun 1. 1995
Garfish
Jun 1. 1995
Species to catch in Denmark
Jun 1. 1995
Sea trout
Jun 1. 1995
The World's Best Trout Flies
May 23. 1995
The landing net for the coast
May 12. 1995
Production Fly Tying
May 10. 1995
Map of Denmark
May 1. 1995
On coloured fish
May 1. 1995
Rules & regulations
May 1. 1995
Proper conduct
May 1. 1995
Tactics
May 1. 1995
Strategy
May 1. 1995
Flies
May 1. 1995
Tackle
May 1. 1995
Winter
May 1. 1995
Autumn
May 1. 1995
Spring
May 1. 1995
Summer
May 1. 1995
The seasons
May 1. 1995
Changing conditions
May 1. 1995
The weather
May 1. 1995
What then? How to get on...
May 1. 1995
Where rules meet
May 1. 1995
Rule no. 3½
May 1. 1995
Rule no. 3
May 1. 1995
Rule no. 2
May 1. 1995
Rule no. 1
May 1. 1995
Casting into waves
May 1. 1995
This is Denmark
May 1. 1995
Catch & Release
May 1. 1995
Fishing Denmark
Apr 20. 1995
Art flies | fly art
Apr 20. 1995
Flytyers Masterclass
Apr 20. 1995
Micropatterns
Apr 5. 1995
The art of the trout fly
Apr 2. 1995
How it started
Apr 1. 1995
Ice cold tubing
Dec 29. 1994
Brian's gallery
Dec 25. 1994
Jan Renier's Gallery
Jun 1. 1994
GFF Gallery
Jan 1. 1994
More content from the front page