Published Aug 12. 1997 - 23 years ago
Updated or edited Nov 29. 2016
Hanafi Saleh, The Netherlands
Hanafi Saleh is another of those Dutchmen that seem so abundant on the fly tying and fly fishing scene. And I say that with envy. Denmark is close to the same size as Holland, but still doesn't seem to have half the number of fly tyers and fly fishers.
Hanafi is an avid flyfisher and gifted tyer and I am delighted
to have him as a guest on my website.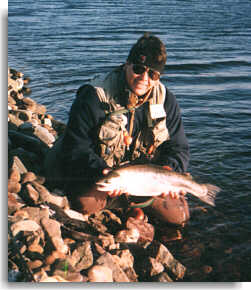 Hanafi Saleh at the Lake Oostvoorne
Hanafi was born in Surabaja, Indonesia in 1947 where he spent part of his childhood until he, together with his family, came to The Netherlands in 1958. He is married, has two children, he now lives in The Hague, where he has been making his living as a Teacher of Physical Education at the "Albeda College" in Rotterdam, since 1976.
He has fished since he was 12 when he started chasing local 'coarse' fish species such as, roach, rudd, carp, walleye and Northern Pike. He picked up a flyrod for the first time in 1977, when he made his first flyfishing trip abroad to the former Yugoslavia, now called Slovenia.
He tried his luck at the rivers Unec and Sava Bohinka. He has also made regular fishing trips to the Kyll in Germany, but his main fishing
outing is to the Gmundener Traun in Austria, where he has fished since 1979 up until 1996.
Being a teacher and having long summer vacations, Hanafi spends a few weeks on the legendary Traun every year. Being a 'regular' there has enabled him to witness the development of the goldbead nymph right from the beginning. He can also regularly be seen on the borders of Lake Oostvoorne, chasing big, stocked rainbow trout - a quest he is very successful with at times, as can be witnessed from his picture on this page.
Hanafi is a member of the local flyfishing club and travelled to Secaucus, New Jersey, November last year, to attend Chuck Furimsky's International Fly Tyers Symposium, as a demonstrating flytyer. He enjoys tying for the public. While in New Jersey, together with a group of Dutch tyers, he availed himself of the opportunity to wet a line there, and he fished the Connetquot river on Long Island.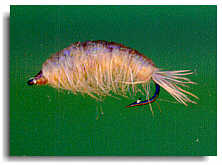 Hanafi Saleh's Floating Shrimp
Bitten by the bug, Hanafi is an avid, inquisitive flytyer trying to 'match the hatch' in tying flies that the fish will readily take. He does not get involved in tying 'presentation' flies.
Favorite flies: Goldbead nymphs, which he ties in a great variety of patterns, Caddis Pupae, Shrimp and Scud patterns for fishing Lake "Oostvoorne".
Other favorite sports: Windsurfing, Golf and Volleyball.
One of Hanafi's patterns is the HS Floating Shrimp, which is featured on this web site.