Published Feb 26. 2003 - 18 years ago
Updated or edited Sep 8. 2016
LR Dyer
Luke - or LR as he's better known - is an avid salmon angler fishing mostly off the banks of the Miramichi and Kedgwick Rivers in New Brunswick, Canada.
he lives in Edmundston, NB Canada in the heart of the St. John River River Valley. He is an accomplished rod builder and has been commissioned to build rods for the prestigious Fraser Lodge on the Kedgwick. He also works with a group of fly reel designers from Ukraine and is currently (1st quarter 2000) working on the release of our new line of fly reels that will bear his signature. As well as being an avid angler, he is also an avid reader of salmon angling books and does book reviews for GFF.
As LR himself puts it:
"Hopefully I can suggest some worthy titles to the readers of the GFF".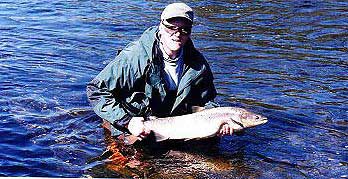 Books read by LR Dyer
More content from the front page