Published Aug 3. 2002 - 18 years ago
Updated or edited Dec 9. 2016
Paul Slaney, Wales
Paul introduces himeslf like this: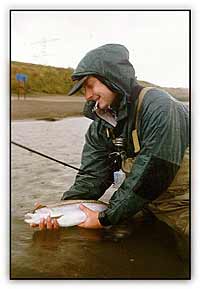 Paul Slaney, Caerwent, South Wales, UK.
Born in 1963, Ive been flyfishing and tying flies to catch Sea Trout, Trout and Grayling since my early teens.

In this small, over populated, over stocked country its still possible to find fantastic scenery, solitude and the challange of wild fish.
Indeed I count myself as a very lucky bloke as Im able to find all this within a short drive of my home near the Brecon Beacons ( a small national park and range of mountains).

My love of lake fishing developed in the Beacons over the past ten years but the patterns and techniques I use here and other parts of the UK have worked for me in such far flung places as Oregon, Montana,
Slovenia, France, and Holland.
Im allways interested to hear of lake patterns and lake fishing techniques and stories from round the world so please feel free to get in touch...
Articles by Paul:

More content from the front page