Published Jan 1. 2002 - 21 years ago
Updated or edited Dec 14. 2015
Peter Frailey
Pete Frailey lives with his wife and three teenage children in Carlisle, Massachusetts, some 30 miles west of Boston.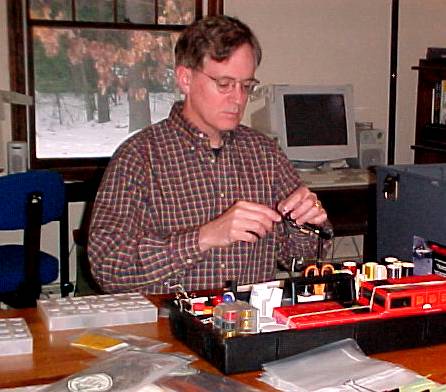 I live with my wife and three teenage children in Carlisle, Massachusetts, some 30 miles west of Boston. Born and raised in the neighboring town of Concord, my mother still lives along the Sudbury River, just downstream from the bay where I fished as a young teenager and where, as an adult fishing with my older son, I landed a 33" Northern Pike on a size 8 Woolly Bomber. Not bad for Massachusetts!
I got back into fishing in 1990 after some 25 years without getting a line wet. I don't remember why I stopped fishing, but it was in high school and probably had something to do with the development of more "social" interests. Anyway, my sons and daughter rekindled my interest when I realized it was time for them to learn to hook a worm and cast it, complete with bobber and sinker, into the old bay near their grandmother's.
Four years later I added fly fishing and tying (I did have a fly rod as a youngster, but never learned to do more than dap for sunfish) when my older son coaxed me to attend a local meeting of United Fly Tyers. It was all over after that, and my two sons and I quickly added fly tying and fly fishing to our respective lists of favorite activities.
I am now a voracious reader of fly fishing and tying books and I spend some time every day mining the Internet for information, trying to make up for lost time. Because I own my own business I have great flexibility in how I schedule my week. As a result I get on the water 30-40 days per year, either alone or with one of my boys. During the spring and fall (and occasionally during the winter, as Massachusetts has no closed season) I fish for trout in the coldwater streams and rivers of Central Massachusetts and Southern New Hampshire. Rather than going a little further north for salmonids during the summer, I enjoy staying close to home and can be found float tubing on local farm ponds, casting foam bugs and poppers to sunfish and bass.
I have kept my fly tying simple, and take great joy in catching my share of fish using basic patterns that can be tied quite successfully by intermediate tiers. My favorite material is peacock herl; it makes many cameo appearances in the patterns I tie. I'm the only one I know who would actually experiment with peacock herl as tailing material on a dry fly. My pet peeve is spinning deer hair. Consequently, the only muddler minnow you will find in my fly box is one I found streamside! It looks very lonely next to all the herl-body Woolly Buggers.
frailey@fiam.net Carlisle, Massachusetts
http://www.fishingwithflies.com/
More content from the front page