Published Nov 10. 2002 - 20 years ago
Updated or edited Nov 29. 2016
Poul Jorgensen, USA/Denmark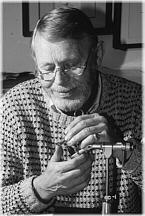 Poul Jorgensen is probably among the best known fly tyers in the world, mostly because of his work with classic salmon flies. He is mentioned by many other well known salmon fly tyers as one of their prime inspirators and has been the spark that ignited many a salmon fly tyers career. His name pops up several times in Judith Dunhams book "The Atlantic Salmon Fly - The Tyers and Their Art".

Recently he has taken up another discipline in fly tying: super naturalistic flies. He has shown examples of that in another Judith Dunham book, namely "The Art of the Trout Fly".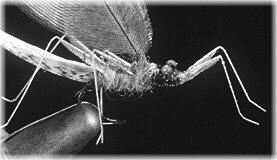 This extremely realistic mayfly was tied by Poul Jorgensen. His inspiration for those very realistic patterns was mentioned in Judith Dunham's book, where he recounts the moment that he looked into the car trunk of Bill Blades' car and thought he saw an entomological collection.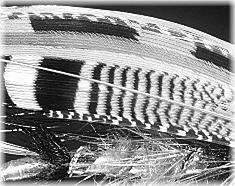 Poul Jorgensen is definately best known for his salmon flies, and has been tying them in the classical Atlantic style since the fifties. He has written several books on the subject and demonstrated his skills on numerous fly shows as well as on videos. Here you can study his amazing technique of tying these flies: preparing the materials, laying the foundation for a smooth body and marrying those delicate strips of feathers for the beautiful wings of the colorful flies.
This pictures shows a detail of such a wing. The Sir Conrad is one of Poul Jorgensen's own patterns and a long time favourite.
More content from the front page