Published Nov 28. 2017 - 5 years ago
Updated or edited Nov 28. 2017
Remus Stanescu
Contributor Remus Stanescu lives, fishes and works in Transylvania, Romania
My name is Remus Stanescu and i was born in a small town from Transylvania located at the confluence of two rivers: Somesul Mare River and Somesul Mic River. In my family the passion for fishing started with my grandmother. She took her three boys fishing without knowing my grandfather; my father was the youngest of them. At that time it was considered a shame to fish because only the poorest, who had nothing to eat, went fishing. So, breaking the social taboo she created a "clan" of fishermen: uncles, cousins, brothers....mothers. Unfortunately, I didn't get to know her because she died shortly after my birth.
What beautiful summers I have spent on Somes Riverside … with my "clan"
Spinning in the 60s was something that no one understood. Flyfishing in the rivers populated with asp, pike, chub was an incomprehensible concept in the 80s-90s. All of this together were made by my father and his brothers, and by my brother….
My need of making something linked to fishing is equal with the one of those who make rods or flies.
Now I make leatherware.
After years of searching i have found something for me….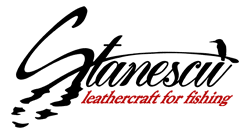 Contact
Remus Stanescu can be reached here:
Web site: stanesculeathercraft.com
Mail: stanescu.remus@gmail.com
Facebook: Remustanescu
More content from the front page