Published Aug 12. 2012 - 8 years ago
Updated or edited Dec 13. 2015
Robb Nicewonger
Smallmouth bass fisherman.
I've been a reader of this web page for a while now and wanted to let you know how I've benefitted from your time and efforts.
I've tied and used many patterns from the old Fishing Denmark site and also Steve's Midwest page. Some of my favorite patterns include the EZ series by Bas Verschoor and his Albino Coney bugger, the many Danish patterns which the trout and smallmouth here in the Northeast also enjoy, and my favorite of favorites the Kluting. I tied up about 2 dozen of these and recently had a great week of fishing near my home in Pennsylvania with these flies.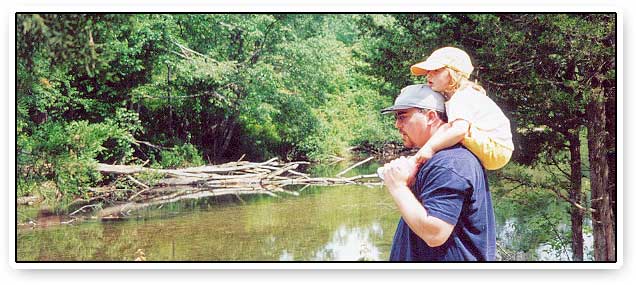 I don't have any pictures of me with bass, so here's the next best thing.
My daughter and I spotting fish on a warm July afternoon. Its never too early to get the little ones started.
On a trip to the Susquehanna River near Harrisburg, PA I caught over 50 smallies using a silver/gray Kluting. The next day, a friend of my brother's took us to Spruce Creek, a famous small limestone creek in central PA. I only had the chance to fish for 2 hours, but landed 7 good trout with a few over 20 inches using an olive or a black Kluting. Anyway, word got out at the club and I was "forced" to give away the rest of my stash and also had to promise to bring a bunch with me the next time I go home!
Robb Nicewonger