Simply the Best Place to go for Online Fly Fishing and Fly Tying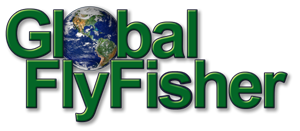 Published Feb 16. 2006 - 12 years ago
Updated or edited Jun 9. 2018
Go low
One of the most common errors we see when we see people taking pictures is that they are looking down on their subject. If you want pictures, which grab attention and have impact a good way is to lower your stance. Bend, kneel, sit even lie down to get below your motif.
What's missing?
How about a face?
What did the fish look like?
Where's the horizon?
How did the place look?
By kneeling down next to the angler you get all this and more.
If you are photographing a standing person, bend your knees to get just a bit lower.
If you are photographing a kneeling person, kneel and bend even further down.
If you are photographing a person lying down, your camera needs to be on the ground.
If you really want to get down, you want to use an angle finder or a camera, where the display can be tilted. That allows you to keep the camera so low that you actually cannot look into it, but using an angler viewer or finder you can still see what's happening.
But remember to be careful with your low photos, particularly if you use a wide angle lens. The perspective can sometimes become too distorted and result in bodies and faces, which look odd.
The opposite is the case with telephoto lenses. The low stance will almost always give a great perspective to the image. By getting the horizon low and isolating the subject against the sky or background you can get a lot of ambience into your image.
You can visit 500th.net, which has much more on photography.