Published Dec 31. 2002 - 20 years ago
Updated or edited Sep 8. 2016
Chris Del Plato
Chris is a streamer afficionado who contributes to GFF.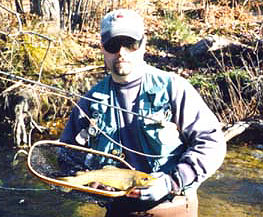 On one of my favorite New Jersey trout streams.
Chris Del Plato is an American fly fisher and fly tyer who lives in Washington Twp., located in New Jersey's northwestern corner. Most of his fishing time is spent chasing trout.
After many early years developing a passion for fishing, Chris was implored by a good friend to try fly-fishing in 1986. Some of his fondest memories of those initial fly fishing years are of successful outings with such famed flies as the Gray Ghost, Black Ghost, Hornberg and Thunder Creek minnows. These early successes, the obvious beauty of the patterns and their history laid the groundwork for his 'obsession' with the streamer fly.
Chris explains, "I'd use the following analogy for streamer fishing: The trout is like a person at a dinner party eating tiny hors d'oeuvres (bugs). He's really just biding his time until the filet mignon (streamer/baitfish) shows up."
Early claims that he could never see himself 'bothering' to tie his own flies prior to 1996 cannot
be substantiated. According to Chris, "I can be a bit of a perfectionist when it comes to tying flies, so this hobby has come with a bit of frustration. There's a lot that goes into it, from searching out good materials to learning new techniques. Anything that doesn't come out quite right is instantly called a 'fishing fly', which clearly translates into 'this one will look better in a bush than on the wall.' I try to tie classic patterns in a way that reflects the originator's style by looking at photos of originals. I'm always interested in what the creator thought the pattern should look like. You can't always get that from the written recipe."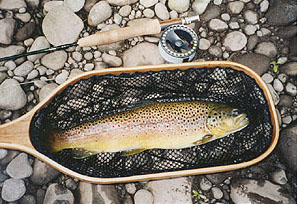 A Winston rod and a Willowemoc brown. Life is good.
Living in the most densely populated state in the U.S., one would think the resources for quality trout fishing in natural environments would be slim at best. Chris states, "I'm lucky enough to live in an area of New Jersey that is far more rural than anyone who's only seen NJ at the Somerset Fly Fishing Show and IFTS could imagine. I consider myself extremely fortunate to be within 5 minutes of both a no-kill stretch and a wild-trout stream (yes, really!), 20 minutes of four other good trout rivers and the Delaware, and 45 minutes from the Big Flatbrook. The only problem is finding enough time to fish them all!"
Chris is married, with three beautiful daughters and is an RF/Microwave engineer by trade. Other interests include wine & microbrews, listening to most types of music (jazz, new age, alternative, classical, blues...), investing, fantasy football and he is an avid Devils, Vikings and Jets fan. Chris also enjoys spending vacation time at a family cottage on Lake Cobbosseecontee in Maine, where he gets in some fly-fishing for largemouth and smallmouth bass.
GFF Contributions authored by Chris

Chris can be contacted at cdelplato@wavelineinc.com
More content from the front page